Breadcrumb Trail links
Local News
"He was successful, had a great job, expensive house, was irritatingly handsome, and had incredible wit and charm," said Peter Murray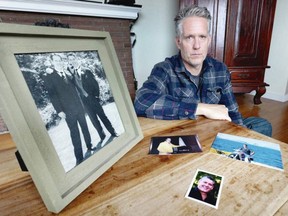 Peter Murray with photos of his brother Barry Murray, who was the best man at his wedding in 1998 (in the photo at left). Barry Murray died of a toxic drug overdose Aug. 3. Photo by DARREN STONE /TIME'S COLONIST
Article content
Peter Murray was worried — the Saanich resident and the rest of his family hadn't heard from his brother, Barry Murray, in days, which was very unusual.
Advertisement 2
This advertisement has not been loaded yet, but your article continues below.
Article content
It was Aug. 8. Peter Murray poked around and found out his brother, who worked as a plumber on construction sites around Vancouver, hadn't shown up for work. "I had this eerie feeling. I can't explain it."
By clicking on the sign up button you consent to receive the above newsletter from Postmedia Network Inc. You may unsubscribe any time by clicking on the unsubscribe link at the bottom of our emails. Postmedia Network Inc | 365 Bloor Street East, Toronto, Ontario, M4W 3L4 | 416-383-2300
Thanks for signing up!
Article content
He phoned Vancouver General Hospital to see if his brother had been admitted, but he hadn't been, at least as a patient. Murray had planned to go to Vancouver that day anyway, so while still on the ferry, he phoned the police to file a missing persons report.
In the meantime, Murray learned that his brother's two vehicles were still in the driveway of his West Vancouver home, so co-workers used GPS to track down his work van and went to the site.
It was on a residential street in the 200 block of Nanaimo Street. The co-workers learned from someone in the area that the driver of the van had died. The man wanted his parking space back.
Advertisement 3
This advertisement has not been loaded yet, but your article continues below.
Article content
"So that's how I found out, over the phone, on the ferry," said Peter Murray, 53, a public servant.
That night he and his cousin went to see the Nanaimo Street home for themselves.
They found a one-bedroom place "full of drugs," and learned from a drug dealer and others that Barry Murray had died at the home Aug. 3.
"They said he just inhaled something and died on the floor," said Peter Murray. "They – dealers, enablers – … weren't apparently in the same room he was, so they didn't monitor him."
The drug dealer told him his brother had been using for about six months.
He was told paramedics transported his brother to the VGH morgue, and the police identified him using the COVID-vaccine app on his phone — the dealers had kept his identification and keys, Murray said. No one called the Saanich family.
Advertisement 4
This advertisement has not been loaded yet, but your article continues below.
Article content
Barry Murray, who was born in Vancouver but raised on Vancouver Island and the Gulf Islands, would have turned 58 on Halloween day.
"He was successful, had a great job, expensive house, was irritatingly handsome, and had incredible wit and charm," said Peter Murray, who said his brother would call the rampant drug use in Vancouver's Downtown East Side "the Apocalypse."
"I just don't think my brother thought he was going there in a million years," said Murray. "He would not have wanted to bring this hurt on the people he loved. I just don't think that he thought this would happen to him."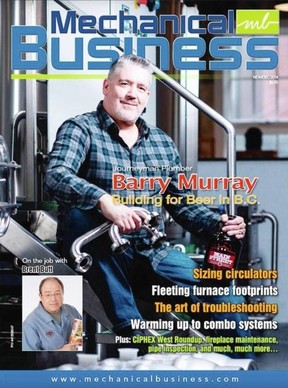 Barry Murray on the cover of Mechanical Business magazine in 2014.
Ironically, said Murray, the coroner commented that his brother "did not look like a user."
He said he understood what the coroner meant, because he, too, had pictured a drug user as "someone looking in the cracks in the sidewalk down Pandora Avenue.
Advertisement 5
This advertisement has not been loaded yet, but your article continues below.
Article content
"But the reality is a lot of people do drugs once in a while — they think it's fun, they do it to escape. They're not intending to die."
Almost six people a day die from toxic drug poisonings in BC in 2022, and nearly 20 percent of those work in the trades and transportation.
Murray spoke to the Times Colonist to say if there was a safe supply of drugs and less stigma around their use, his brother might be alive today.
People from all walks of life — not just those living on the streets or experiencing mental-health challenges — are using drugs and they shouldn't be shamed into silence and seeking out a toxic supply, he said.
"My brother and I were like best friends always, and so you just think they're going to tell you they use drugs, but they don't, they're ashamed," said Murray. "So they end up going to places where they're accepted and unfortunately, they end up dying in places where they were accepted."
Advertisement 6
This advertisement has not been loaded yet, but your article continues below.
Article content
Murray said while it's not easy, he and his mother believe talking about his brother's death is the right thing to do, "so his death isn't in vain."
In January, the Vancouver Island Construction Association received a $1-million provincial grant — through the Canadian Mental Health Association BC Division and the Community Action Initiative — to expand its Tailgate Toolkit harm-reduction program. Developed with Island Health, it's intended to help prevent toxic drug poisoning in BC's construction industry, including about 15,000 to 25,000 trades workers on Vancouver Island
At the beginning of each new construction project, a harm reduction co-ordinator addresses workers on the crisis and its harms. Supervisors are trained in where to access resources and how to support workers with addiction challenges.
Advertisement 7
This advertisement has not been loaded yet, but your article continues below.
Article content
Once a week, the Umbrella Society — a Victoria-based non-profit that provides mental-health and substance-use support to individuals and families — facilitates a virtual discussion called Hammertime for people to talk and to share information on regional resources.
Rory Kulmala, CEO of the Vancouver Island Construction Association, said there's no single reason anyone takes drugs, including those in the trades, but some regular themes echoed by Heath Canada include drugs and alcohol being used for pain management from injury and as relaxants after a day or week of extreme physical demands — "a kind of work hard, play hard" approach.
More than three quarters of the lives lost to toxic drug poisonings in 2022 in BC were male, and nearly the same percentage (73 per cent) were between the ages of 30 and 59. Health Canada says three out of four substance-use deaths in Canada are men and 30 to 50 per cent work in trades.
Advertisement 8
This advertisement has not been loaded yet, but your article continues below.
Article content
The first priority of the Tailgate Toolkit program is to reduce the stigma around drug use. "People are struggling in silence with this — often co-workers and family don't even know," said Kulmala.
The program then focuses on the toxic supply, "which takes a casual user and puts them into a very vulnerable state of exposure to bad drugs, which will ultimately or could kill them."
This week, an all-party legislative committee on the toxic-drug overdose crisis released a report that made 37 recommendations aimed at speeding up responses to the public health emergency, which has seen more than 10,000 deaths since April 2016.
The recommendations included funding measures to ensure that a prescribed safer supply of substances is available in all areas of the province.
The committee report resonated with Murray. He doesn't agree with any kind of drug use, personally, but he also doesn't see the sense in ignoring the reality that many people are using them and dying not of overdoses but poisonings.
"I think the only solution for these people that end up using drugs is to make it safer … but we're not doing any good by hiding it because when you hide it, you die hidden."
Read more from the Times Colonist
Share this article on your social network
Advertisement 1
This advertisement has not been loaded yet, but your article continues below.
Comments
Postmedia is committed to maintaining a lively but civil forum for discussion and encouraging all readers to share their views on our articles. Comments may take up to an hour for moderation before appearing on the site. We ask you to keep your comments relevant and respectful. We have enabled email notifications—you will now receive an email if you receive a reply to your comment, there is an update to a comment thread you follow or if a user you follow comments. Visit our Community Guidelines for more information and details on how to adjust your email settings.
Source: https://news.google.com/__i/rss/rd/articles/CBMiU2h0dHBzOi8vdmFuY291dmVyc3VuLmNvbS9uZXdzL2xvY2FsLW5ld3MvYnJvdGhlcnMtb3ZlcmRvc2UtZGVhdGgtaGF1bnRzLXNhYW5pY2gtbWFu0gEA?oc=5