Breadcrumb Trail links
News
Local News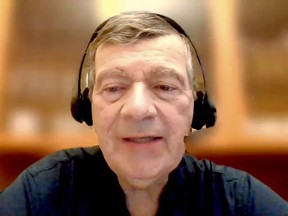 File photo of Dr. Paul Roumeliotis. Handout/Cornwall Standard-Freeholder/Postmedia Network supplies
Article content
The Cornwall Police Service and the Eastern Ontario Health Unit are warning residents about an increase in drug-related overdoses in and around the City of Cornwall.
Advertisement 2
This advertisement has not been loaded yet, but your article continues below.
Article content
Many of the overdoses seem linked to opioids like "purple heroin" or "purple," a substance that contains a dangerous mix of fentanyl, benzodiazepines and other substances; authorities are also receiving reports of various other substances which come in a variety of colors, beyond purple.
"Stronger opioids are more likely to cause overdose, and we are seeing an alarming rise in overdose events in our region," saidDr. Paul Roumeliotis, Medical Officer of Health at the EOHU.
"Safety precautions such as naloxone kits can be lifesaving in these situations, but it's also important to call 911 even before administering it, as naloxone is not effective in overdoses from benzodiazepines. If you or someone you know is using street drugs, I implore you to take advantage of the free naloxone kits and training in our area. They may very well save a life."
Advertisement 3
This advertisement has not been loaded yet, but your article continues below.
Article content
Said Chad Maxwell, CPS Inspector of Field Operations: "The prevalence of opioids and concerning rise in overdoses in our community has greatly impacted vulnerable residents and their loved ones. Our officers continue to be called to perform life-saving measures in these situations, indicating to us the need to urge the public to perform the necessary prevention steps to avoid an overdose.
"While police would like to warn the public to avoid the use of unknown illicit drugs altogether, it is critical that emergency services are contacted in the event of an overdose to help prevent unnecessary deaths."
The best way to prevent an overdose is to avoid street drugs or counterfeit medications. However, if individuals use street drugs, taking the following precautions will help to lower the risk: never use alone; if you are going to use it alone, call the National Overdose Response Service at 1-888-688-6677. A non-judgmental peer will stay on the line with you for approximately 30 minutes to provide support if needed; don't mix drugs; get a free naloxone kit that can help to reverse the effects of an opioid overdose; use only new drug paraphernalia supplies and avoid sharing supplies to reduce your risk of getting or passing on an infectious disease.
Advertisement 4
This advertisement has not been loaded yet, but your article continues below.
Article content
If you witness an overdose, it is essential to contact 911 as soon as possible. A naloxone kit alone may not be enough to reverse the fatal effects of opioids and medical attention may be required. As time is of the essence, naloxone can be administered while you wait for emergency services to arrive. The Good Samaritan Drug Overdose Act can provide some legal protection for individuals that seek emergency help during an overdose.
To learn more about naloxone overdose prevention kits and where you can find them, visit the Fentanyl page of the EOHU's website at www.EOHU.ca, or visit www.ontario.ca/naloxone
As part of its public health mandate, the EOHU monitors the local situation regarding opioids and other drugs in the region in collaboration with a number of community partners.
The EOHU thanks its community partners, such as CPS, for their actions and efforts in working to keep residents and community members safe.
Share this article on your social network
Advertisement 1
This advertisement has not been loaded yet, but your article continues below.
Comments
Postmedia is committed to maintaining a lively but civil forum for discussion and encouraging all readers to share their views on our articles. Comments may take up to an hour for moderation before appearing on the site. We ask you to keep your comments relevant and respectful. We have enabled email notifications—you will now receive an email if you receive a reply to your comment, there is an update to a comment thread you follow or if a user you follow comments. Visit our Community Guidelines for more information and details on how to adjust your email settings.
Source: https://standard-freeholder.com/news/local-news/cornwall-police-eohu-warning-of-increase-in-drug-overdoses