Breadcrumb Trail links
News
Local News
Powerful opioids circulating in area, task force warns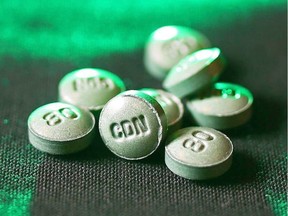 Fentanyl pills (File photo)
Article content
The opioid emergency response task force issued a red alert Monday about an increase in suspected opioid related calls and deaths.
Advertisement 2
This advertisement has not been loaded yet, but your article continues below.
Article content
"EMS call volume was higher than we have seen in the previous six-week average and there were suspected opioid related deaths that occurred within days of each other within the Cochrane District," Seamus Murphy, deputy chief with Cochrane District Emergency Medical Services told The Daily Press in an email.
The Opioid Emergency Response Task Force reminds the public, people who use it, and their friends and family that powerful opioids and other toxic substances continue to be circulating in the area. Any type of illicit substance can contain powerful opioids and put any person who uses them at risk of overdose and death.
People have overdosed unaware they were using substances with opioids in them. This includes stimulants like "molly", "meth" and cocaine. Most overdose deaths happen when someone else is not around to intervene.
Advertisement 3
This advertisement has not been loaded yet, but your article continues below.
Article content
"These spikes that we experience highlight that the drug supply is toxic and that the supply continues to be unpredictable, which puts people at even greater risk of experiencing a tragic outcome," Murphy wrote. "No one is immune to the risk of opioid overdose when substances are consumed."
The Opioid Emergency Response Task Force is encouraging people who use substances to never use alone, test a small amount first, and avoid mixing substances. To avoid an unintended overdose, the task force recommends visiting a Supervised Consumption Site, such as Safe Health Site Timmins at 21 Cedar Street North (open 9 am to 9 pm daily).
If you are using substances with a friend, do not use at the same time.
The task force recommends that friends, family and loved ones of those who use substances carry a naloxone kit, available for free throughout the area at Porcupine Health Unit offices and at many pharmacies. They should be familiar with the signs and symptoms of overdose and how to provide first aid, including administering naloxone.
Advertisement 4
This advertisement has not been loaded yet, but your article continues below.
Article content
A list of sites where kits are available can be found at www.ontario.ca/page/get-naloxone-kits-free.
If you suspect an overdose, call 911 immediately, administer naloxone if available, and wait for help to arrive. The Good Samaritan Drug Overdose Act provides protection from arrest for simple possession if you are calling authorities to help a person who is overdosing.
The task force also encourages users to call the National Overdose Response Line at 1-888-688-NORS (6677). Available 24/7, the hotline provides nonjudgmental, confidential support.
The Opioid Emergency Response Task Force identifies surges in calls or fatalities from opioids and alerts those who use substances, their families, and the public. They issue drug alerts and ensure partners have naloxone.
Advertisement 5
This advertisement has not been loaded yet, but your article continues below.
Article content
"We also encourage individuals to use Safe Health Site Timmins where trained professionals are present to prevent an overdose. If people do not wish to use this location, we encourage them not to use alone," Murphy wrote.
Data is collected from area emergency departments, first responders and partner agencies.
The Timmins and Area Drug Strategy is a collaboration of: the hospital, the Porcupine Health Unit, Cochrane District EMS, the Timmins Police Service, the Ontario Provincial Police, the Nishnawbe Aski Police Service, the Timmins Fire Department, North and South Cochrane Addiction Services , the Canadian Mental Health Association, the Cochrane District Social Services Administration Board, and the City of Timmins.
As the recent municipal election showed, the opioid crisis in Timmins is a priority problem for many residents. Murphy wants the public to know there is something they can do to help.
"Communities can support strategies that reduce stigma and promote access and to health and social services," he said.
Share this article on your social network
Advertisement 1
This advertisement has not been loaded yet, but your article continues below.
Comments
Postmedia is committed to maintaining a lively but civil forum for discussion and encouraging all readers to share their views on our articles. Comments may take up to an hour for moderation before appearing on the site. We ask you to keep your comments relevant and respectful. We have enabled email notifications—you will now receive an email if you receive a reply to your comment, there is an update to a comment thread you follow or if a user you follow comments. Visit our Community Guidelines for more information and details on how to adjust your email settings.
Source: https://news.google.com/__i/rss/rd/articles/CBMib2h0dHBzOi8vdGltbWluc3ByZXNzLmNvbS9uZXdzL2xvY2FsLW5ld3MvaW5jcmVhc2UtaW4tZHJ1Zy1yZWxhdGVkLWVtcy1jYWxscy1pbi10aW1taW5zLWFyZWEtb3Zlci1sYXN0LXNpeC13ZWVrc9IBAA?oc=5