Breadcrumb Trail links
News
Local News
A street worker who fought for better treatment for drug users, Paige Phillips was killed by BC's tainted illicit drug supply
Publishing date:
Aug 20, 2022 • 13 hours ago • 3 minutes read • 16 comments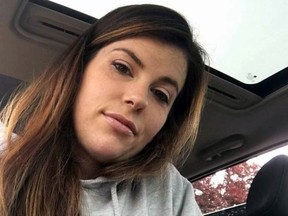 Page Phillips, 32. Provide by Scott Heffernan. Photo by Page Phillips /jpeg
Article content
Paige Phillips dared to go where others were too scared to go.
Advertisement 2
This advertisement has not been loaded yet, but your article continues below.
Article content
As an outspoken advocate for harm-reduction services and end-of-life care, she was a bridge to Victoria's marginalized, street-entrenched community.
"I think that's where she found her home," said a University of Victoria nursing professor, Kelli Stajduhar, who worked with the 32-year-old to develop a standard of palliative care that social workers across the province now use.
"She saw what was happening, witnessing so many of her friends from the street go into hospitals with infections, cancer or overdoses and them not getting good care. So, she went to the ER with them."
Last week, Phillips became one of more than 10,000 British Columbians who has fatally overdosed since a public health emergency was declared in April 2016 due to increasingly toxic street drugs.
Advertisement 3
This advertisement has not been loaded yet, but your article continues below.
Article content
The father of her two daughters, Jack Phillips, says if the province widened its scope of safe supply, her life might have been saved.
"Paige is part of a huge group of people whom BC's doctor-prescribed model of safe supply doesn't help," said her ex-husband, who worked for years alongside Phillips at the SOLID Outreach Society.
"In the end, it was dangerous street drugs that killed her."
The couple, who met on the East coast of Canada, moved to Victoria a decade ago with a plan to help others with substance-use disorder. They started at a small peer based nonprofit.
Friday, a GoFundMe page raised close to $5,500 for her two children, ages five and eight.
"Paige was a fierce advocate. While at SOLID, they got around 40 people who were living on the block into permanent housing," Jack said.
Advertisement 4
This advertisement has not been loaded yet, but your article continues below.
Article content
She helped expand the organization to what it is now, providing more than 3,500 drug users with avenues of employment.
Phillips' legacy also includes work as a board member for the BC-Yukon Association of Drug War Survivors in 2020, while continuing advocacy work with the Equity in Palliative Care Collaborative.
"Paige's work connecting palliative care providers to those who needed them most helped us get sustainable funding for our inner city mobile team. Now, people have access to a nurse, an outreach worker and other supports five days a week," Stajduhar said.
"She would go as far as to find out what people needed without any family support and help carry out their will."
Her half-brother, Scott Heffernan, said she was responsible for his decision to enter a rehabilitation program last November.
Advertisement 5
This advertisement has not been loaded yet, but your article continues below.
Article content
"I was worried my partner wouldn't wait for me and I'd be wasting my mom's money for the treatment. … I was making every excuse as I was in active addiction. Paige was tough but in a way I needed," said Hefferman.
Now, nine months sober, the brother counts himself among the lucky people who Phillips helped.
"She'd tell me: 'Scott, you don't get it, these people have nobody. They're dying out here – this community is where I'm needed.'"
In a statement Tuesday, Health Minister Sheila Malcolmson outlined the province's safe supply strategy, which has included the rollout of prescribed opiates and synthetics fentanyl and sufentanil to 12,000 citizens since March 2020.
The overdose-prevention measure is currently limited to a handful of federally approved pilot programs, all of which operate in Vancouver and Victoria and require doctors or nurse practitioners to prescribe the drugs.
Advertisement 6
This advertisement has not been loaded yet, but your article continues below.
Article content
It has also expanded supervised consumption sites in the province to 42, Malcomson said.
"Clearly more is needed because increasing illicit drug toxicity has outstripped BC's unprecedented addition of new overdose prevention services."
sgrochowski@postmedia.com
twitter.com/sarahgrochowski



Kamloops youth homelessness advocated died of an accidental drug overdose




Daphne Bramham: BC's drug decriminalization bar set so low, it can't help but succeed




Speaking truth to power, Downtown Eastside advocate Karen Ward pleads for people to listen
More news, fewer ads: Our in-depth journalism is possible thanks to the support of our subscribers. For just $3.50 per week, you can get unlimited, ad-lite access to The Vancouver Sun, The Province, National Post and 13 other Canadian news sites. Support us by subscribing today: The Vancouver Sun | The Province.
Share this article on your social network
Advertisement 1
This advertisement has not been loaded yet, but your article continues below.
By clicking on the sign up button you consent to receive the above newsletter from Postmedia Network Inc. You may unsubscribe any time by clicking on the unsubscribe link at the bottom of our emails. Postmedia Network Inc | 365 Bloor Street East, Toronto, Ontario, M4W 3L4 | 416-383-2300
Thanks for signing up!
Comments
Postmedia is committed to maintaining a lively but civil forum for discussion and encouraging all readers to share their views on our articles. Comments may take up to an hour for moderation before appearing on the site. We ask you to keep your comments relevant and respectful. We have enabled email notifications—you will now receive an email if you receive a reply to your comment, there is an update to a comment thread you follow or if a user you follow comments. Visit our Community Guidelines for more information and details on how to adjust your email settings.
http://www.nakayama-dr.jp/feed2js/magpie_simple.php?url=http://feeds.feedburner.com/SyndicationSite