Breadcrumb Trail links
News
Local News
Publishing date:
Oct 29, 2022 • 41 minutes ago • 2 minutes read • Join the conversation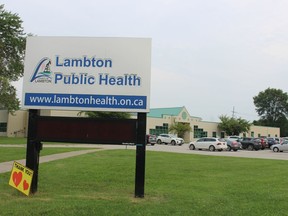 The Lambton Public Health office at Point Edward. Photo by File photo /The Observer
Article content
Amid reports of an increase in suspected drug-related deaths, public health officials are urging people to take safety precautions.
Advertisement 2
This advertisement has not been loaded yet, but your article continues below.
Article content
In a news release Friday evening, Lambton's health unit urged people not to mix opioids and other street drugs, or alcohol; not to use alone, and to carry a naloxone kit.
Signs of an opioid overdose include difficulty walking, talking or staying awake; blue or gray lips or nails; very small pupils; cold and clammy skin; dizziness and confusion; extreme drowsiness; choking, gurgling or snoring sounds; slow, weak or no breathing; and an inability to wake up, even when shaken or shouted at, public health officials said in the release.
Officials also urged people to call 911 and remain on scene to provide information to paramedics in the event of an overdose, to administer naloxone if they have it, and to know that the Good Samaritan Drug Overdose Act protects them from facing possession charges, or breach of conditions charges related to possession.
Advertisement 3
This advertisement has not been loaded yet, but your article continues below.
Article content
Sarnia police recently warned powerful-opioid fentanyl found molded into cartoon-like shapes could pose a danger if mistaken for candy or cannabis edibles.
Public Health Ontario reports 37 opioid overdose-related deaths in Sarnia-Lambton in 2021. Lambton's rate of 28.5 opioid-related deaths per 100,000 population for the year was well above the 19.2 provincial average.
The most recent opioid bulletin from Lambton public health Oct. 24 notes a preliminary figure of nine opioid overdose-related deaths between January and March this year.
As of the end of September, there had been 196 opioid overdose-related emergency medical service calls that year, and 13 related emergency department visits, the bulletin says
Advertisement 4
This advertisement has not been loaded yet, but your article continues below.
Article content
An alert Sept. 1 noted there had been a recent increase in calls to EMS for suspected opioid overdose in the community, the bulletin says.
The surveillance report also notes about 4,800 free naloxone kits had been distributed, as of last month, by public health and community partners, including community health centres, so far this year; although the number distributed through pharmacies wasn't available.
"Lambton public health continues to validate all reports of recent overdoses with stakeholders and health system partners," the news release says.
No further information about the suspected drug-related deaths was immediately available Saturday from public health officials.
More information about public health's harm reduction program is available at lambtonpublichealth.ca/health-info/harm-reduction/, officials said in the release.
Share this article on your social network
Advertisement 1
This advertisement has not been loaded yet, but your article continues below.
Comments
Postmedia is committed to maintaining a lively but civil forum for discussion and encouraging all readers to share their views on our articles. Comments may take up to an hour for moderation before appearing on the site. We ask you to keep your comments relevant and respectful. We have enabled email notifications—you will now receive an email if you receive a reply to your comment, there is an update to a comment thread you follow or if a user you follow comments. Visit our Community Guidelines for more information and details on how to adjust your email settings.
Source: https://news.google.com/__i/rss/rd/articles/CBMibGh0dHBzOi8vdGhlb2JzZXJ2ZXIuY2EvbmV3cy9sb2NhbC1uZXdzL3B1YmxpYy1oZWFsdGgtaW52ZXN0aWdhdGluZy1pbmNyZWFzZS1pbi1zdXNwZWN0ZWQtZHJ1Zy1yZWxhdGVkLWRlYXRoc9IBAA?oc=5